Tips for Training Exam Invigilators and Access Arrangements Support Staff in 2022
April 7th 2022
After two years of disrupted school and exams, with access arrangement requests and exam-anxiety at an all time high, well-prepared exam invigilators and helpers are a critical part of helping summer exams run smoothly.
Whether you do your training yourself, or want to take advantage of one of our hassle-free courses, we've listened to our members and put together some top tips for training invigilators and access arrangement facilitators in 2022.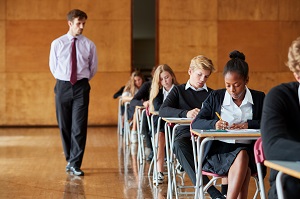 Make sure that you, or whoever is doing the training, knows the Instructions for Conducting Examinations (ICE) booklet back to front and upside down. The changes for this year are highlighted in yellow at the front of the book. Knowing the subject so well yourself will enable you to make your training clear and concise; absolutely essential when the chances are that all your exam helpers will have brains and lives as full as yours.


Make sure that invigilators and exam helpers know exactly what is and isn't permissible in the event of questions and disruptions. With exam anxiety so high, and most A-level pupils yet to have taken a public exam, it is really key to give our students a calm and uncertainty-free exam environment.


Make the training easily accessible. Getting everyone who needs training together in one room in one time is about as practical as herding cats. If you can record your training and offer it online to those who can't make it, you may be able to expand the number of helpers available to you, and avoid having to repeat the training several times yourself.


Don't forget to update existing helpers. If you're lucky, you will have faithful invigilators and helpers who help out year after year. But don't be caught out by thinking they don't need training. The JCQ has made it mandatory that existing invigilators be updated and made aware of changes for 2022, and you'll need to retain a record of the content of their training too (see below).


Keep a record of the training you give your invigilators and exam helpers. It is now obligatory to keep a record of the content of the training given on file for the JCQ inspectors to review when they come to inspect your centre, so don't be caught out.


Consolidate separate invigilation requests where possible. If you have a large number of 'separate invigilation' requests, consider using classrooms to accommodate 10 or so students who have requested separate invigilation, potentially including a couple with readers or scribes, where the background noise level can remain at a low level (often preferable for those anxious students who don't like silence)


Don't use more exam helpers than you need. Where a candidate really does need to be in a room on their own and needs the help of a reader or scribe, the reader/scribe can also be the invigilator (if trained in both), so only one exam helper will be required.


If you're still short of Invigilators. The Exams Office have developed this Invigilator recruitment map to enable centres to advertise their invigilator vacancies at no cost.


Think ahead for potential difficulties. If you have several students with Rest Breaks available to them, it will be very important for the invigilators to stay on top of different exam finish times for students if they take breaks at different times of different lengths. Working out how you will do this in advance will make it less stressful at the time.
For those short on time, or with too many to train, we are offering the online courses listed below to help you at a busy time. For as little as £70, you get 10 consecutive days access to train as many invigilators as you need to, either in big groups or letting them access it online themselves. For an additional fee, you can add unlimited access to 31st July, to ensure you have access to the training as many times as you need for any last minute helpers. Click on the courses below for more information and booking. You can email Debbie with any queries at online at communicate-ed dot org dot uk.
Covers the rules for invigilation as set out in the 2021/22 JCQ booklet 'Instructions for Conducting Examinations'
Does not cover access arrangements
120 minutes
£70 to train as many helpers as you like (includes 2 additional logins for individuals to access the training)
10 consecutive days access (upgrade to unlimited access to 31st July for £55)
Covers the 2021/22 JCQ regulations relating to access arrangement facilitation
Useful for invigilators also overseeing access arrangements
90 minutes
£80 to train as many helpers as you like (includes 2 additional logins for individuals to access the training)
10 consecutive days access (upgrade to unlimited access to 31st July for £55)
If you book for 10 days, then the courses will both be available for the same days
£110 to book both courses togather (saves £40)
If you add unlimited access to 31st July (for £90), you can access both courses as many times as you like for the rest of the academic year